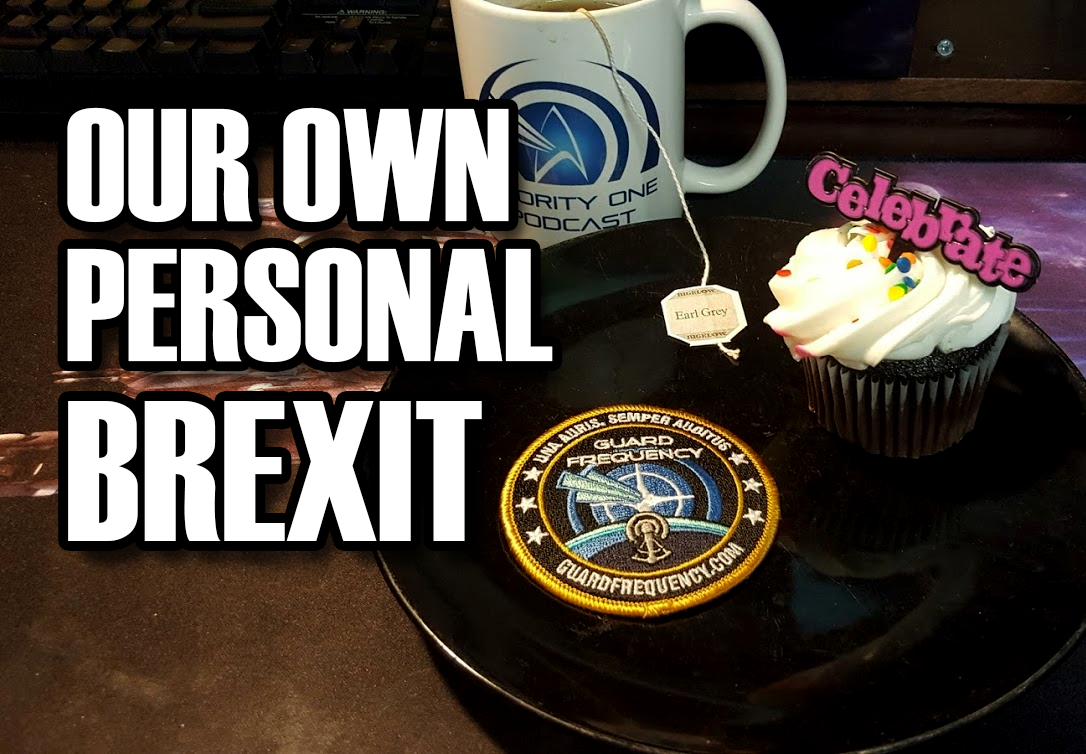 Guard Frequency Episode 128| Our Own, Personal, Brexit
Greetings Citizens and Civilians, you're tuned to episode 128, of Guard Frequency — the best damn space sim podcast ever! This episode was recorded on Friday 15th July 2016 and released for streaming and download on Tuesday, July 19th 2016 at GuardFrequency.com
[Download this episode]
Lennon, Geoff and Tony are back in the hangar to bring you another entry into the galactic saga that is the Best Damn Space Sim Podcast Ever. To get us going, in this week's Squawk Box, somebody's interested in Jupiter's newest moon. On the Flight Deck we see what news has landed from your favourite space-sims as we cover:
Next, we debate giving the primitives space things, and finally we tune into the Feedback Loop and let you join in on the conversation.
A Brief Announcement
Hi Cits, Civs, Captains and Commanders, Lennon here! Most of our eagle eyed (or eared) listeners will know that when it comes to attendance records amongst the hosts that the rankings are pretty clear. With his unbroken record, Geoff sits like a king on his throne, looking down on Tony coming in a close second, and then me, trailing behind a distant third. This is down to a number of factors — work moving away, me moving house, some unexpected medical issues, Pokemon Go (just kidding), this list goes on. As it's well established that I'm the most popular host on Guard Frequency by a survey of 1 (my own mother) in order to spare the audience continual heart-break when they're not greeted by my sultry, British tones, I have decided to take a step back from being a regular host of the show. Now, don't read too deeply in to that — I'm still very much around and part of Guard Frequency, I'll still be editing the show with Mikey, writing the show with Ostron, and interacting with all you lovely people on Facebook and Twitter. Yes, sorry, you're not getting rid of me that easily. Speaking of our illustrious producer Ostron, he'll be taking my spot in the hangar as a regular host from episode 129 onwards. I want to quickly take a moment to thank each and every listener for putting up with my butchering of the Great Murican Language, my insistence on converting hull strength and shield ratings into metric, and for generally being the Best Damn Audience a podcaster could ever ask for.
This Week's Community Questions
Is there value in having a gameplay mechanic that sees players forcing the advancement of primitive aliens? Or is the current "leave them be or plunder them" gameplay sufficient?

Let us know your thoughts by commenting below!
We got patches!

Join us in-game!
Priority One Productions are always looking for new team members that have a passion for space sims. Please know that all of our positions are volunteer, but we do offer a well known outlet for your work. If you have a particular skill that you believe could enhance our content, then send your contact information and experience along with a few writing samples to squawk@guardfrequency.com
You can also follow us on the social media sites! We're on Facebook! Head over to www.facebook.com/guardfreq and say "hi!", or check us out on Twitter via @guardfreq for details of our show times and other fun stuff.
Liked this episode? Totally hated it? Leave a comment below, Contact Us using our handy web form or leave your comments on the Roberts Space Industries forums!
Thanks to Ronald Jenkees for his permission to use his music in our show. Visit www.ronaldjenkees.com for more of his work! Enjoy the show!
Trackback from your site.