Like what we do? Do you want to help us make the Best Damn Space Sim Podcast Ever? We'd love to have you support us week-on-week with our Patreon campaign.
Allow Ourselves to Introduce…Ourselves
From the creative minds at Priority One Productions comes Guard Frequency — the universe's premier Star Citizen podcast.
All of you aviation enthusiasts listening know what the guard is. So, those folks know where we're going here. The guard is a specific frequency that all aircraft and control towers should be monitoring constantly.
If someone out there is lost, or having an engine failure, or a panic attack, or some other in-flight emergency, they might send a mayday on that channel. Other pilots or towers in the area will answer back on that channel with instructions or directions to get you back to smooth and level.
Or, if you're already crashing and burning, they'll know where to send the search and rescue people.
That's what this show, and our organization, is all about – a place where you can just tune in and know that you're going to get help from the community. Or, maybe you'll be there to help out a fellow Citizen or Civilian.
It takes the constant effort of a team of people to do what we do, and it takes some cold hard cash to get it out to everyone.  This is our hobby, so we don't mind spending some money to make it happen.  But, if we didn't have to carry the ball by ourselves, we could carry it a lot farther. You've seen and heard our interviews with Chris Roberts, Eric Peterson, Ben Lesnick, Rob Irving and many more with CIG.  There will be more.  But they could happen more often if our listeners helped us out with covering the week-to-week expenses and chipped in for travel and lodging.
If you love listening to the show as much as we love making it, please consider helping us make it even better.  Thanks for listening, and we'll see you out in the deep black!
Badges! You Need Some Stinkin' Badges!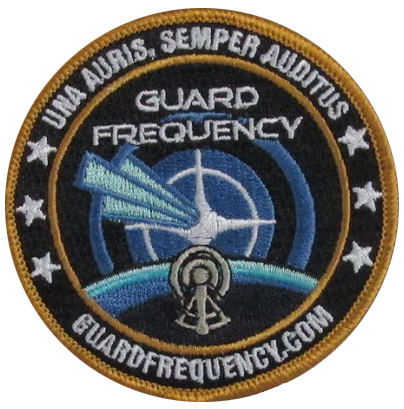 That's right! Want to show off some authentic flair to your wingman? How about bragging rights that you're part of an elite squadron? By supporting us on Patreon you have the chance to be a random winner and receive your very own Guard Frequency Response patch. It was designed by our team here and is embroidered so it'll look right at home with your other collection of patches sewn onto your flight jacket.
Patreon Levels & Rewards!
Below are all of our reward tiers for you to compare. Take your time, it's no rush. By contributing any of these amounts per show, you're helping us forge the Best Damn Space Sim Podcast Ever and we want you to feel like you're part of the crew, because you are.
| | | | | | | |
| --- | --- | --- | --- | --- | --- | --- |
| | Proxy | Stakeholder | Shareholder | Member | Manager | Director |
| Per Show Contribution | $1.25 | $2.50 | $3.75 | $7.50 | $15.00 | $30.00 |
| Live Show Recording | | | | | | |
| Squadron Wing Patch | | | | | | |
| 1 shirt (every 6 mo) | | | | | | |
| Squadron Unit Patch | | | | | | |
| E:D RPG Compendium | | | | | | |
| Division Patch of Choice | | | | | | |
| 1 Shirt (every 2 mo) | | | | | | |
| Nuggets Catalog | | | | | | |
| 1 Shirt (every month) | | | | | | |
| 2 Shirts (every month) | | | | | | |
| 3 Shirts (every month) | | | | | | |