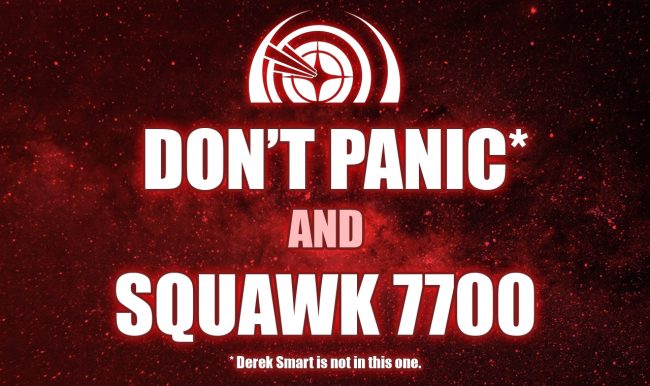 Guard Frequency Episode 162 | Don't Panic, and Squawk 7700
Greetings Citizens and Civilians, you're tuned to episode 162 of Guard Frequency — the best damn space sim podcast ever! This episode was recorded on March 31st 2017 and released for streaming and download on Tuesday, April 4th 2017 at GuardFrequency.com
In this week's Squawk Box, we talk about reusable rockets and robot revolutions! After that we hit the Flight Deck and see what news from your favourite space-sims has landed as we cover:
And for our post April 1st listeners….
Finally we tune into the Feedback Loop and let you join in on the conversation.
This Week's Community Questions
Will you miss the Star Citizen Crowdfunding Update figures now that their gone? No, this is not an April Fools joke, we really are going to stop reading them.

SC CQ:  In Around The Verse, they went into a little more technical detail on the changes to the physics grids than the high level overview that they normally give. We want to know, what's your opinion on this? Should they be giving us the nitty-gritty where-ever possible, or should they just give us the TL;DR version?

ED CQ: It's generated a bit of controversy out in the verse, but we want to know what you think of the changes made to multicrew payouts.

IB CQ: What are your thoughts on 300-player spaceship battles? Are you looking forward to being in the middle of a conflict that large, or are you the sort of pilot that prefers smaller skirmishes? Have you ever participated in one of EvE's famed thousand-player fleet battles? If so we'd love to hear your experience!

Is manned turret gameplay a beneficial alternate way to participate in space sims that just needs some development to get over current hurdles? Or will it always be a little-used feature marred by  limitations or immersion breaking abstractions?
Let us know your thoughts by commenting below!
We got patches!

Join us in-game!
Priority One Productions are always looking for new team members that have a passion for space sims. Please know that all of our positions are volunteer, but we do offer a well known outlet for your work. If you have a particular skill that you believe could enhance our content, then send your contact information and experience along with a few writing samples to squawk@guardfrequency.com
You can also follow us on the social media sites! We're on Facebook! Head over to www.facebook.com/guardfreq and say "hi!", or check us out on Twitter via @guardfreq for details of our show times and other fun stuff.
Liked this episode? Totally hated it? Leave a comment below, Contact Us using our handy web form or leave your comments on the Roberts Space Industries forums!
Thanks to Ronald Jenkees for his permission to use his music in our show. Visit www.ronaldjenkees.com for more of his work! Enjoy the show!
Trackback from your site.