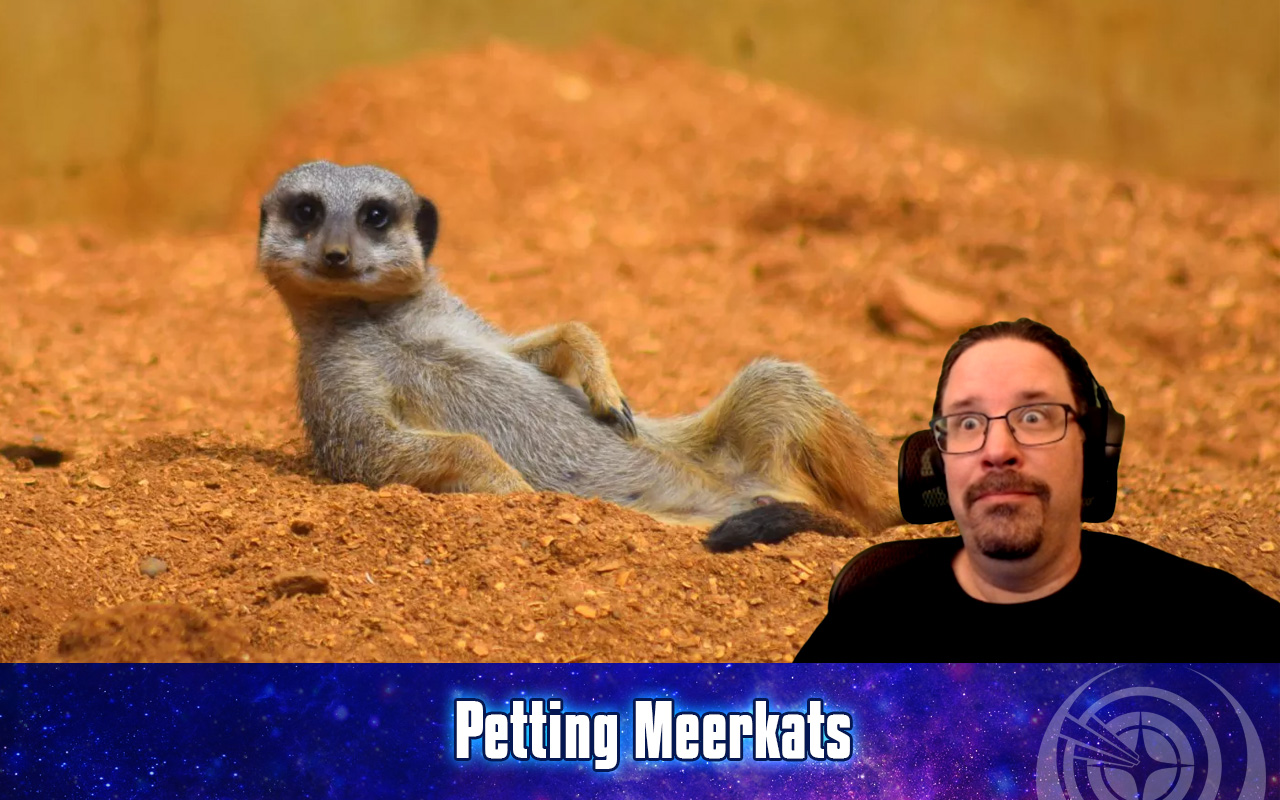 Guard Frequency Episode 407 | Petting Meerkats
Cits and Civs, Captains and Commanders, you're tuned to episode 407 of Guard Frequency — the best damn space sim podcast ever! This episode was recorded on Friday July 25, 2022 and released for streaming and download on Tuesday, July 26, 2022 at GuardFrequency.com
[Download this episode]
(Right click, Save As…)
This Week's Schedule
Flight Deck

Elite Dangerous
Star Citizen
No Man's Sky
Homeworld 3
The game formerly known as Descent Underground

And before we leave the flight deck we'll bring you another installment of your favorite segment that we've been doing for so long: Skiffy's GamePass Review. You know… that segment we do so often… with Skiffy
Feedback Loop
---
Links & The Like
Elite Dangerous
Elite Dangerous went to Lavecon and didn't reveal anything new… at least not ON PURPOSE. As is typical, Arf tried to drop hints in a way that preserved his plausible deniability. So, OK, fine, we'll play along. It's not like we have anything else to talk about. Except rumors, gossip, and accusations of Tony being wrong from our research badgers. Well, *badger.* OK, OK, Wotherspoon.
Star Citizen
Star Citizen sent Early Access Pre-Alpha Release Candidate Prototype Experimental Test Build 3.17.2 to the PTU for everyone to enjoy, and we mean it this time. Also, last week, we said the Lego contest between Eve Online and Star Citizen was QUOTE gonna take some Celebrity Apprentice level punching up to make this exciting at all. Hopefully the teams from both companies will try to sabotage themselves and each other to make good radio – or I guess video END QUOTE. Well, they sorta listened to us. They went for more of a jackass or impractical jokers vibe. Teams from CCP (Eve's publisher) and CIG (Star citizen's publisher) spent 4 hours spinning a makeshift wheel of fortune to do terrible things to themselves and each other. At least they raised some money for charity … $20,000. That's a pretty good haul for some LEGO nerds.
No Man's Sky
No Man's Sky released yet another update. Sean Murray tweeted out a muscley bicep emoji, and followed up with the expansion's name: Endurance. This one was chock full of updates, and the dot-dot patches that followed it was chock full of bug fixes. Hello Games has updated the freighter interiors to make them more functional and fun, updated the visuals on asteroids, nebulae and black holes, and a new expedition will be out, likely next week as this show releases. Also: daily twitch drops over the weekend for players on XBox, Playstation and Steam. Those of you – ahem, Tony – who bought it through Good Old Games? You're left in the cold, deep black – where it gets pretty lonely.
Homeworld 3
Homeworld 3 released a teaser that showed off some nostalgia-laden visuals and a release date of Q4 2022. So we'll see if it's out by June 2023.
The Game Formerly Known as Descent Underground
And last, but certainly not least… we gather at the graveside of the game formerly known as Descent Underground, which was born as Ships That Fight Underground, and goes to its final rest under the same name.
Community Questions
Tell us what you think about crypto and NFTs in video games. 300 words or less please.

What other classic space video games from the Homeworld era need a reboot?
Patreon Backing
We love bringing you this show each week, but would also love your support? If you enjoy listening and want to contribute to us being the Best Damn Space Sim Podcast Ever, then go to our Patreon page and look at all of the rewards and loot you would be eligible to receive.
Join Us In Game!
Click here to go to our Star Citizen Organization page and apply today!
Check out the callsigns we use personally in each game
Tags: descent underground, elite dangerous, no man's sky, star citizen
Trackback from your site.