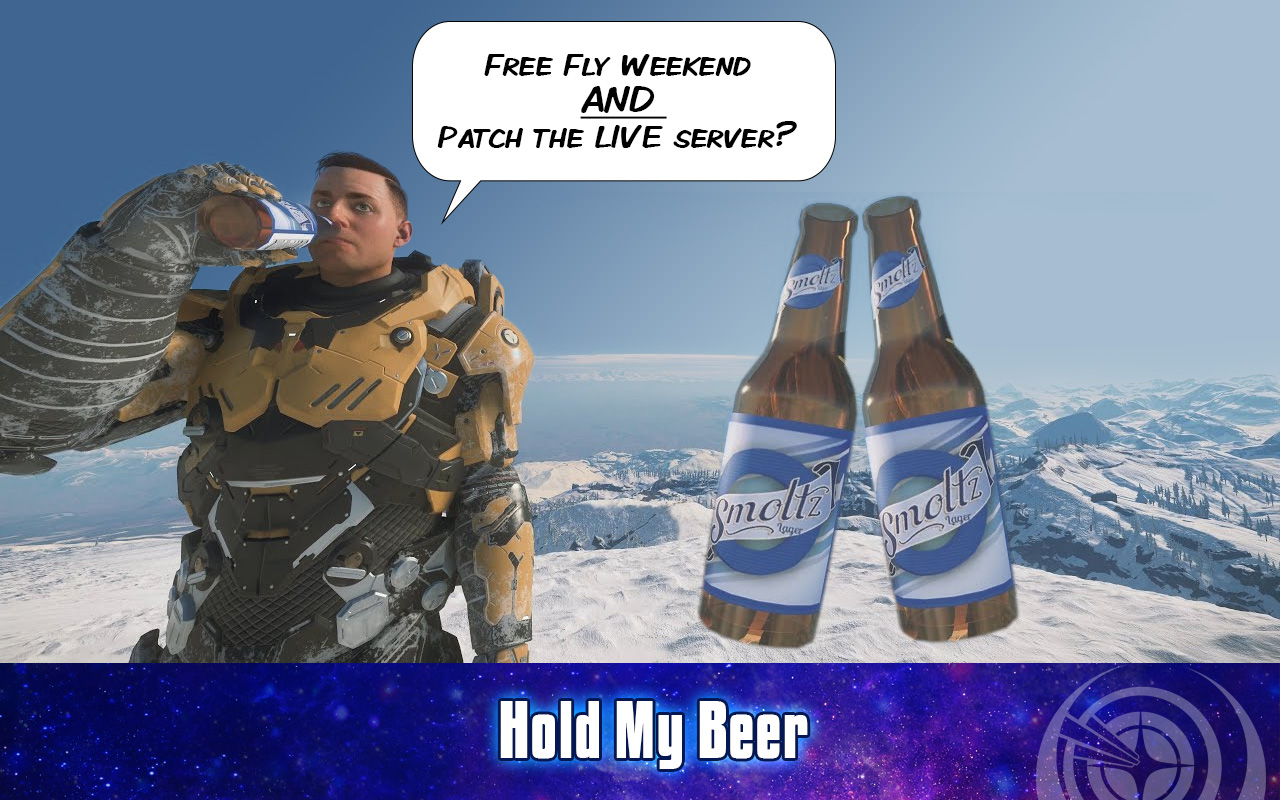 Guard Frequency Episode 440 | Hold My Beer
Cits and Civs, Captains and Commanders, you're tuned to episode 440 of Guard Frequency — the best damn space game podcast ever! This episode was recorded on Friday, April 14 and released for streaming and download on Tuesday, April 18, 2023 at GuardFrequency.com
[Download this episode]
(Right click, Save As…)
This Week's Schedule
Flight Deck

Elite: Dangerous
Star Citizen
X4 Foundations

Feedback Loop
---
Links & The Like
Elite: Dangerous
Elite Dangerous says farewell to another familiar face, as Community Team Member Bruce Garrido heads over to the F1 Manager staff at Frontier. Happy Trails Bruce, and enjoy your new community of sane, calm and rational sports racing gamers. I bet you're going to miss us. Also, on the barest of bare hopes that Frontier MIGHT do something about the Thargoid Fun Hole next month, Tony revisited the ground game in Odyssey. It had its ups and downs. And the well-respected third party website EDDB.io has shut down for good. This raises some questions about the viability of both fan-created content and Frontier's decision-making about it. Right now, everyone should be asking themselves: Have I sent a couple of guineaquids to INARA.cz lately?
Star Citizen
Star Citizen released Early Access Pre-Alpha Release Candidate Prototype Experimental Test Build 3.18.1 to the LIVE server this week, AND… HOLD MY BEER… announced a free fly promotion through April 20. Then, they released Early Access Pre-Alpha Release Candidate Prototype Experimental Test Build 3.18.2 to the PTU for all backers, and THEN, they patched it again to run a Jumptown event on Sunday. And we here at Guard Frequency would like to congratulate them on these bold moves and declare them a complete success on the basis of very little evidence! But that's how we usually do things anyway.
X4: Foundations
X4 released their "Kingdom's End" expansion exactly when they said they would. The $15 DLC brings a new campaign to discover the secrets of "Heretic's End" as well as the Boron race with all their unique ships and technology. The quality of life improvements to graphics and gameplay are free to current owners who upgrade to version 6.0, which is what Tony did. And then he bought the DLC for $12 because that and the base game are on sale through Steam until Monday… right before the show releases.
---
Community Questions
Do you rely on third party websites for your gameplay in Elite or other games? Is there a site you consider indispensable, so much that if it shut down, you might play the game less?
Is there a secret sauce to making a great single player adventure into a great online game or vice versa? Have you seen it done well?
Patreon Backing
We love bringing you this show each week, but would also love your support? If you enjoy listening and want to contribute to us being the Best Damn Space Sim Podcast Ever, then go to our Patreon page and look at all of the rewards and loot you would be eligible to receive.
Join Us In Game!
Click here to go to our Star Citizen Organization page and apply today!
Check out the callsigns we use personally in each game
Tags: elite dangerous, podcast, star citizen, x4 foundations
Trackback from your site.