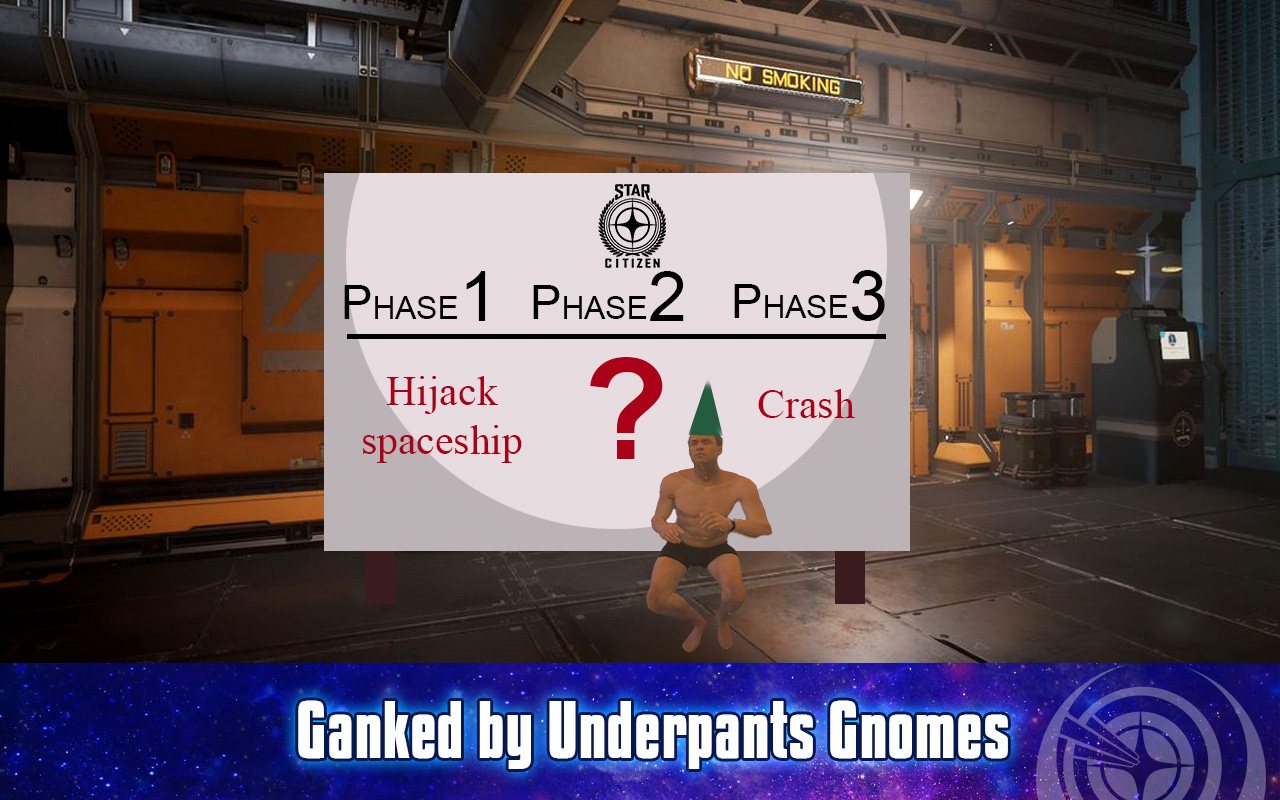 Guard Frequency Episode 442 | Ganked by Underpants Gnomes
Cits and Civs, Captains and Commanders, you're tuned to episode 442 of Guard Frequency — the best damn space game podcast ever! This episode was recorded on Friday, May 5 and released for streaming and download on Tuesday, May 9, 2023 at GuardFrequency.com
[Download this episode]
(Right click, Save As…)
This Week's Schedule
Flight Deck

Elite: Dangerous
Star Citizen
Starfield

Feedback Loop
---
Links & The Like
Elite: Dangerous
Elite Dangerous lifted an embargo they imposed on their content creator partners, and everybody simultaneously told us three things. First, the new Thargoid interceptor isn't an interceptor at all, it's a Hunter called the Glaive. So, Elite's revenge for Star Citizen stealing the Asp Explorer is stealing a ship name. LAME. Second, you'll need some number of green jolly ranchers to buy a new field neutralizer to get into the middle of the Thargoid Maelstroms. How many jolly ranchers? What other materials will you need? Is it a one-time unlock or do you need to grind for each module? They won't say. We have to wait for the patch. LAME. Third, they're making a half hearted attempt to half fill the Thargoid Fun Hole. Instead of shooting scary aliens in the dark, we're going to shoot flying drones in either the dark or light or whatever. LAME. But they do say that they're not revealing everything up front and that there will be more things to discover once the patch is released. Here's hoping it takes more than a week to find it all.
Star Citizen
Star Citizen released Early Access Pre-Alpha Release Candidate Prototype Experimental Test Build 3.19 to the Wave 2 PTU server, and knocked the 3.18.2 Live servers over. Basically everything you know is wrong. Black is white, up is down, and short is long. But that's OK because the 3.19 patch is on track for release in time for the Invictus Ship Sale – or the Launch Week, whichever of those is supposed to attract new players. And just in time for those new players, the New Player Experience is being tested in 3.19 now, and will be there to shepherd new citizens through the first 30 minutes of the game… assuming they survive being griefed by underpants gnomes. But don't worry, there's a fix for underpants gnomes on the Roadmap Roundup, which should be ready for…. Patch 3.20.
Starfield
Bethesda has a unique solution to the problem of cannibalizing Starfield sales by it's newest release: Redfall. If you want people to save their playtime and video game cash until your September release, just make sure your May release is terrible. And while Redfall is a different kind of game than Starfield, lots of people are now worried about Starfield's launch. Basically, if Bethesda and Microsoft are willing to release Redfall in it's buggy and incomplete state, are they going to hold Starfield to that standard too? Please, Todd Howard, don't do this to us…
---
Community Questions
Redesign the New Player Experience for Star Citizen. How would you introduce new players to the verse?
How many new grinds will we have to complete before we find out what is ACTUALLY in the middle of the Thargoid Maelstroms?
Patreon Backing
We love bringing you this show each week, but would also love your support? If you enjoy listening and want to contribute to us being the Best Damn Space Sim Podcast Ever, then go to our Patreon page and look at all of the rewards and loot you would be eligible to receive.
Join Us In Game!
Click here to go to our Star Citizen Organization page and apply today!
Check out the callsigns we use personally in each game
Tags: elite dangerous, podcast, star citizen, starfield
Trackback from your site.