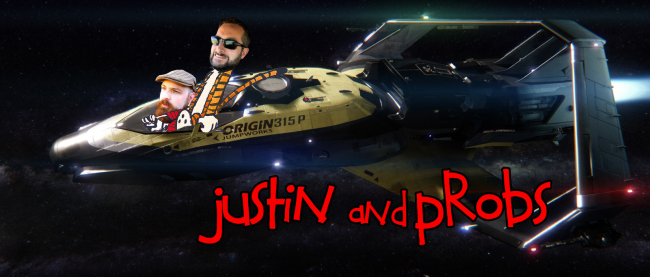 Guard Frequency Episode 100 | Justin And Probs
Greetings Citizens and Civilians, you're tuned to episode 100, of Guard Frequency, the universe's premier Star Citizen podcast recorded at about 99 other points throughout the year and released for streaming and download on December 15th 2015 at GuardFrequency.com
[Download this episode]
Hey guys, Lennon here. Each week I write up the show notes into a blog post, dutifully summarising our discussions and antics on the show so you can go into the episode you've just downloaded fully informed of the chaos that's about to unfold. This time, I have absolutely no idea. A few weeks back, Ben "First Verse Problems" Sanders and our community manager "The Chiv" came to us and said that they had an idea for episode 100, but they couldn't tell us what it was. For some reason, Tony decided to greenlight it. So here we are — Guard Frequency episode 100. As much of a surprise to us hosts and the vast majority of the crew as it will be for you, but I have been told you can sit back, relax, and… how did Ben put it? "Enjoy the best show Guard Frequency has ever made. Oh, and a special thanks to Ronald Jenkees for his permission to use him in the show". Whatever that means.
Topics Discussed

Immortality
Mini Jump-points
Coffee machine descaler
Getting naked
Our favourite parts of Star Wars
Astrophysics
Listener Call-Ins
… and more!
This Week's Community Questions
Let us know your thoughts by commenting below!
We got patches!

View our post for our latest episode on the RSI forums.
Our Organisation: Guard Frequency Response
Click here to go to our Organisation page and apply today!
Priority One Productions are always looking for new team members that have a passion for Star Citizen or the general sci-fi world. Please know that all of our positions are volunteer, but we do offer a well known outlet for your work. If you have a particular skill that you believe could enhance our content, then send your contact information and experience along with a few writing samples to squawk@guardfrequency.com
You can also follow us on the social media sites! We're on Facebook! Head over to www.facebook.com/guardfreq and say "hi!", or check us out on Twitter via @guardfreq for details of our show times and other fun stuff.
Liked this episode? Totally hated it? Leave a comment below, Contact Us using our handy web form or leave your comments on the Roberts Space Industries forums!
Thanks to Ronald Jenkees for his permission to use his music in our show.  Visit www.ronaldjenkees.com for more of his work! Enjoy the show!
Trackback from your site.