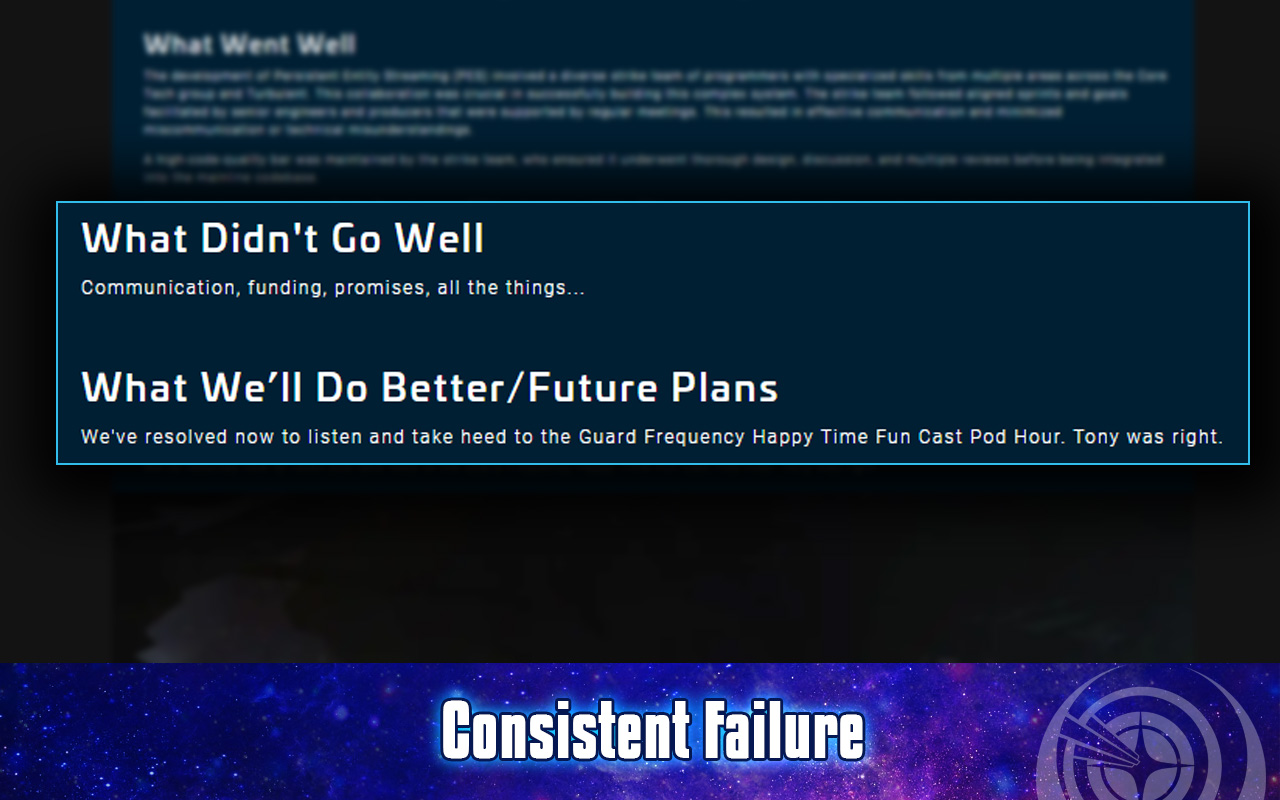 Guard Frequency Episode 459 | Consistent Failure
Cits and Civs, Captains and Commanders, you're tuned to episode 459 of Guard Frequency — the best damn space game podcast ever! This episode was recorded on Friday, September 15 and released for streaming and download on Tuesday, September 19, 2023 at GuardFrequency.com
[Download this episode]
(Right click, Save As…)
This Week's Schedule
Flight Deck

Elite: Dangerous
Star Citizen
Cyberpunk 2077
Spoiler-lite Starfield
A little game engine called Unity

Guard Frequency Origins, where the mall cops strike back, seriously, any minute now.
Feedback Loop
---
Links & The Like
Elite: Dangerous
Elite Dangerous had a couple of confrontations with reality this week as Frontier releases their fiscal year 2023 performance figures and the community goal last week failed to meet threshold. But it seems like both problems were anticipated and everybody was prepared for the consequences, at least in the short term.
Star Citizen
Star Citizen released Early Access Pre-Alpha Release Candidate Prototype Experimental Test Build 3.20 to everybody and has announced another concurrency test. So, everybody quit playing Starfield and play Jumptown 2.1 – assuming you can connect. And we're pretty sure that EVERYBODY was tuned in to the livestream last week, because the day before Episode 458 released, the 3.18 postmortem appeared AND something reported to be an internal email seemed to confirm the delay of 4.0 until next year. And then there was a separate leak that seems to confirm three things we've been saying for a while, and one thing that doesn't surprise us. And it's been a while since someone in the gaming press wrote a scathing op-ed about the state of Star Citizen and Squadron 42, but don't worry, Massively OP has broken that dry spell. And it's all Disco Lando's fault.
The Rest
Starfield continues to, um, be released, and also being fun and good and just slightly annoying in places. We'll continue our spoiler-lite discussions about mechanics and pro-tips and impressions and so on and so forth. But we're also looking forward to Cyberpunk 2077's Phantom Liberty DLC which will be available when next week's show releases, so we'll spend a few minutes on that. And finally, I'm feeling pretty good about my life choices this week, because I'm developing my indy game in Godot, and NOT in Unity. It turns out I'm very smart and really good at game dev – or maybe Unity is just not very smart or good. Time will tell.
---
Community Questions
Is there a point to a progress report if there is no hope of attaching any sort of timeline to it?
If this is the beginning of the end for Elite Dangerous, what would be the perfect swan song?
Patreon Backing
We love bringing you this show each week, but would also love your support? If you enjoy listening and want to contribute to us being the Best Damn Space Sim Podcast Ever, then go to our Patreon page and look at all of the rewards and loot you would be eligible to receive.
Join Us in Game!
Click here to go to our Star Citizen Organization page and apply today!
Check out the callsigns we use personally in each game.
Tags: cyberpunk 2077, elite dangerous, podcast, star citizen, starfield, unity
Trackback from your site.